UNIQUE SCULPTURALEXIBITION
september 2007
On the farmstead "Onder de 7 linden" a unique exhibition is held. In and around this monumental farmstead for the 12th time in 2007 around 20 international artist encourter one and other. Every second year it is attemped to find new artist of a high calibre. the diversity of the exibited works is exceptional as well as the unique setting in which they are displayed.

Visitors are handed a map of the exhibited works at the entrance. The artist themselves often walk around in the garden to elucidate their work.


The exibition 2007 is open from Friday 28 september till Sunday 7 oktober daily from 12.00 tot 18.00 hour. All days 5 euro entree, childeren with adults are free.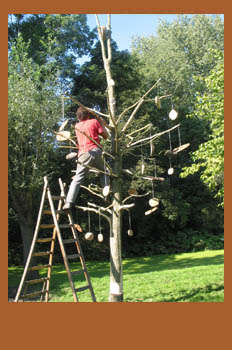 Impression 2005

Press
Click here to download digital press map.

Stichting Beelden in de herfst
Lony Strub, Louis van der Meijden,
Pauline Janssen

Onder de zeven Linden
Delftsestraatweg 280 Delfgauw
telefoon 015 – 257 06 10
info@beeldenindeherfst.nl
route info